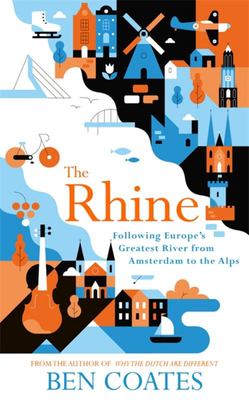 $28.00
NZD
Category: Travel Writing
From rowing the canals of Amsterdam to riding a cow through the Alps, via Cold War nuclear bunkers, raucous Gay Pride parades, tranquil Lake Constance and snowy mountain climbs, The Rhine blends travelogue and offbeat history to tell the fascinating story of how a great river helped shape a continent. SHORTLISTED FOR THE STANFORD DOLMAN TRAVEL BOOK OF THE YEAR AWARD The Rhine is one of the world's greatest rivers. Once forming the outer frontier of the Roman Empire, it flows 800 miles from the social democratic playground of the Netherlands, through the industrial and political powerhouses of Germany and France, to the wealthy mountain fortresses of Switzerland and Liechtenstein. For five years, Ben Coates lived alongside a major channel of the river in Rotterdam, crossing it daily, swimming and sailing in its tributaries. In The Rhine, he sets out by bicycle from the Netherlands where it enters the North Sea, following it through Germany, France and Liechtenstein, to where its source in the icy Alps. He explores the impact that the Rhine has had on European culture and history and finds out how influences have flowed along and across the river, shaping the people who live alongside it. ...Show more
$30.00
NZD
Category: Travel Writing
The acclaimed author of The Wild Places examines the subtle ways we are shaped by the landscapes through which we move In this exquisitely written book, which folds together natural history, cartography, geology, and literature, Robert Macfarlane sets off to follow the ancient routes that crisscross bo th the landscape of the British Isles and its waters and territories beyond. The result is an immersive, enthralling exploration of the voices that haunt old paths and the stories our tracks tell. Macfarlane's journeys take him from the chalk downs of England to the bird islands of the Scottish northwest, from Palestine to the sacred landscapes of Spain and the Himalayas. He matches strides with the footprints made by a man five thousand years ago near Liverpool, sails an open boat far out into the Atlantic at night, and commingles with walkers of many kinds, discovering that paths offer a means not just of traversing space but also of feeling, knowing, and thinking. ...Show more
$28.00
NZD
Category: Travel Writing
Twenty years ago, Frances Mayes - widely published poet, gourmet cook and travel writer - introduced readers to a wondrous new world when she bought and restored an abandoned villa called Bramasole in the spectacular Tuscan countryside. With glorious descriptions of the vibrant local markets, food, wine and the Italian landscape, Under the Tuscan Sun inspired generations to embark on their own journeys - whether that be flying to a foreign country in search of themselves, savouring one of the book?s dozens of delicious seasonal recipes, or simply being transported by Mayes? signature evocative, sensory language. Now, with a new afterword from the Bard of Tuscany herself, the 20th anniversary edition of this timeless classic and international bestsellerbrings us up-to-date with the book?s most beloved characters. ...Show more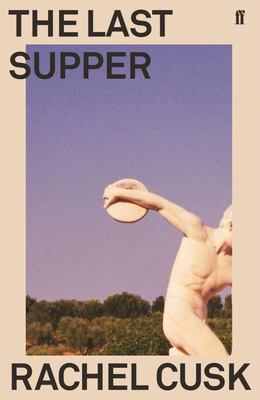 $26.00
NZD
Category: Travel Writing
When Rachel Cusk decides to travel to Italy for a summer with her husband and two young children, she has no idea of the trials and wonders that lie in store. Their journey leads them to both the expected and the surprising, all seen through Cusk's sharp and humane perspective.
$25.00
NZD
Category: Travel Writing
Winner - Edward Stanford Travel Memoir of the Year 2019. Longlisted for the Rathbones Folio Prize. 'An extraordinary travelogue, strange and brilliant' i In 2013 Guy Stagg made a pilgrimage from Canterbury to Jerusalem. Though a non-believer, he began the journey after suffering several years of menta l illness, hoping the ritual would heal him. For ten months he hiked alone on ancient paths, crossing ten countries and more than 5,500 kilometres. The Crossway is an account of this extraordinary adventure. Having left home on New Year's Day, Stagg climbed over the Alps in midwinter, spent Easter in Rome with a new pope, joined mass protests in Istanbul and survived a terrorist attack in Lebanon. Travelling without support, he had to rely each night on the generosity of strangers, staying with monks and nuns, priests and families. As a result, he gained a unique insight into the lives of contemporary believers and learnt the fascinating stories of the soldiers and saints, missionaries and martyrs who had followed these paths before him. The Crossway is a book full of wonders, mixing travel and memoir, history and current affairs. At once intimate and epic, it charts the author's struggle to walk towards recovery, and asks whether religion can still have meaning for those without faith. It was a BBC Radio 4 'Book of the Week' on publication. ...Show more
$25.00
NZD
Category: Travel Writing
There are still wild places out there on our crowded planet.Through a series of personal journeys, Dan Richards explores the appeal of far-flung outposts in mountains, tundra, forests, oceans and deserts. Following a route from the Cairngorms of Scotland to the fire-watch lookouts of Washington State; f rom Iceland's 'Houses of Joy' to the Utah desert; frozen ghost towns in Svalbard to shrines in Japan; Roald Dahl's writing hut to a lighthouse in the North Atlantic, Richards explores landscapes which have inspired writers, artists and musicians, and asks: why are we drawn to wilderness? What can we do to protect them? And what does the future hold for outposts on the edge? ...Show more
$30.00
NZD
Category: Travel Writing
'A fizzingly entertaining and enlightening book' Daily Telegraph 'Mesmerising' Geographical Magazine 'A fascinating delve into uncharted, forgotten lost places. But it's not just a trivia-tastic anthology of remote destinations but a nifty piece of psycho-geography, explaining our human need for t hese cartographical   conundrums.' Wanderlust In a world of Google Earth, in which it is easy to believe that every discovery has been made and every adventure already had, Off the Map is a stunning testament to how mysterious our planet still is. From forgotten enclaves to floating islands, from hidden villages to New York gutter spaces, Off the Map charts the hidden corners of our planet. And while these are not necessarily places you would choose to visit on holiday - Hobyo, the pirate capital of Somalia, or Zheleznogorsk, a secret military town in Russia - they each carry a story about the strangeness of place and our need for a geography that understands our hunger for the fantastic and the unexpected. But it also shows us that topophilia, the love of place, is a fundamental part of what it is to be human. Whether you are an urban explorer or an armchair traveller, Off the Map will inspire and enchant. You'll never look at a map in quite the same way again.     ...Show more
$33.00
NZD
Category: Travel Writing
A fascinating exploration of new and disappearing islands around the world, by the author of Off the Map.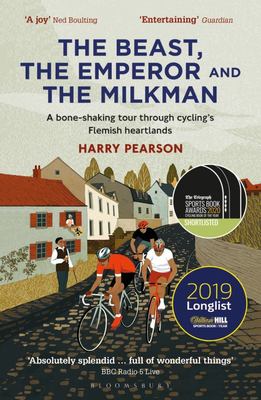 $25.00
NZD
Category: Travel Writing
LONGLISTED FOR THE WILLIAM HILL SPORTS BOOK OF THE YEAR 2019 'A joy.' o Ned Boulting Every nation shapes sport to test the character traits it most admires. In The Beast, the Emperor and the Milkman, committed Belgophile and road cycling obsessive Harry Pearson takes you on a journey across Flanders, t hrough the lumpy horizontal rain, up the elbow juddering cobbled inclines, past the fans dressed as chickens and the shop window displays of constipation medicines, as he follows races big, small and even smaller through one glorious, muddy spring. Ranging over 500 years of Flemish and European history, across windswept polders, along back roads and through an awful lot of beer cafes, Pearson examines the characters, the myths and rivalries that make Flanders a place where cycling is a religion and the riders its lycra-clad priests. ...Show more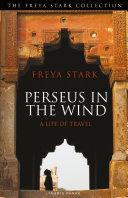 $23.00
NZD
Category: Travel Writing
Written just after the Second World War, Perseus in the Wind (named after the constellation) is perhaps the most personal, and haunting, of all Freya Stark's writings. She muses on the seasons, the effect light has on a landscape at a particular time of day, the smell of the earth after rain, Muslim sai nts, Indian temples, war and old age. Each chapter is devoted to a particular theme- happiness (simple pleasures, like her father's passion for the view from his cabin in Canada); education (to be able to command happiness, recognize beauty, value death, increase enjoyment); beauty (incongruous, flighty and elusive - a description of the stars, the burst of flowers in a park); death (a childhood awareness of the finality of time, the meaningfulness of the end); memory (the jewelled quality of literature, pleasure, love, an echo or a scent when aged by the passage of time). For those who have loved her travel writing, Perseus in the Wind illuminates the motivations behind her journeys and the woman behind the traveller. ...Show more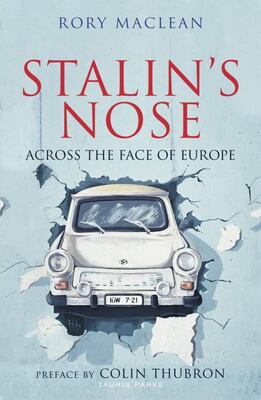 $30.00
NZD
Category: Travel Writing
Winston the pig fell into Aunt Zita's life when he dropped onto her husband's head and killed him dead. It was a distressing end to a distinguished life of spying for the U.S.S.R. After the funeral Zita, a faded Austrian aristocrat and vivacious eccentric, refuses to remain at home in East Germany. Inst ead she hijacks her nephew Rory and, with Winston in tow, sets out on one last ride. Austrians have extended families, their lineage is Europe's history and Zita has decided to rediscover hers. In a rattling Trabant the threesome puff and wheeze across the continent, following the threads of memory Zita's remarkable east European relations - the angel of Prague, the Hungarian grave digger who had buried Stalin's nose, a dying Romanian propagandist - help tie together the loose ends of her life. The travelers picnic at Auschwitz. They meet Lenin's embalmer. They visit the impoverished Czech town where the sewers run with jewels. Everywhere they learn what life had truly been like under totalitarian rule. They hear a torrent of life tales, some heartbreaking, some hilarious, all enriched with the joy of telling after decades of enforced silence. Humorous and black, touched with the surreal and the farcical, Stalin's Nose is a true and exceptionally vivid story of a journey from the Baltic to the Black Sea, between Berlin and Moscow, through an eastern Europe divested of fear and free to face the past. ...Show more
Horizon
by Barry Lopez
$26.00
NZD
Category: Travel Writing
From the National Book Award-winning author of the classic Arctic Dreams, a vivid, poetic, capacious work that recollects the travels around the world and the encounters--human, animal, and natural--that have shaped an extraordinary life.   Taking us from pole to pole and across decades of lived exper ience, Barry Lopez--hailed by the Los Angeles Times Book Review as "one of our finest writers"--gives us his most far-ranging, yet personal, work to date. Horizon moves indelibly, immersively, through the author's travels to six regions of the world: from Western Oregon to the High Arctic; from the Gal pagos to the Kenyan desert; from Botany Bay in Australia to finally, unforgettably, the ice shelves of Antarctica.   As he takes us on these myriad travels, Lopez also probes the long history of humanity's quests and explorations, including the prehistoric peoples who trekked across Skraeling Island in northern Canada, the colonialists who plundered Central Africa, an enlightenment-era Englishman who sailed the Pacific, a Native American emissary who found his way into isolationist Japan, and today's ecotourists in the tropics. Throughout his journeys--to some of the hottest, coldest, and most desolate places on the globe--and via friendships he forges along the way with scientists, archaeologists, artists, and local residents, Lopez searches for meaning and purpose in a broken world.   Horizon is a revelatory, epic work that voices concern and frustration along with humanity and hope--a book that makes you see the world differently, and that is the crowning achievement by one of America's great thinkers and most humane voices. ...Show more