$22.00
NZD
Category: Middle Fiction
Into the Jungle is a modern classic in the making, as Katherine Rundell creates charming and compelling origin stories for all Kipling's best-loved characters, from Baloo and Shere Khan to Kaa and Bagheera. As Mowgli travels through the Indian jungle, this brilliantly visual tale, which weaves each shor t story together into a wider whole, will make readers both laugh and cry. Rudyard Kipling's The Jungle Book, first published by Macmillan in 1894, is one of the most enduring books of children's literature, delighting generations of children. Katherine Rundell has taken this as the basis of her new and enchanting tale, sharing the early years of favourite characters and informing the creatures they become in Kipling's classic, with stories about family and friendship, loyalty and jungle law, and a final battle which will decide the future of the forest. ...Show more
$20.00
NZD
Category: Middle Fiction | Series: What Katy Did Ser.
Katy was the sort of girl who might do anything next, so long as it was something exciting! At twenty-one, she was as eager for adventure as ever, and what greater adventure could there be for an American girl than a trip to Europe? Watching a Punch-and-Judy show in London...driving down the Champs-Élys ées in Paris...on to the Riviera and the picture-postcard blue of the Mediterranean...on again to Italy, Naples, Rome, Florence and, at last, to Venice and into a gondola on the Grand Canal, with a handsome young naval officer who--ah, but that would be telling! ...Show more
$20.00
NZD
Category: Middle Fiction | Series: Katy
What Katy DidKaty #1by Susan CoolidgeWhat Katy Did is an 1872 children's book written by Sarah Chauncey Woolsey under her pen name Susan Coolidge. It follows the adventures of a twelve-year-old American girl, Katy Carr, and her family who live in the fictional lakeside Ohio town of Burnet in the 1860s. Katy is a tall untidy tomboy, forever getting into scrapes but wishing to be beautiful and beloved. When a terrible accident makes her an invalid, her illness and four-year recovery gradually teach her to be as good and kind as she has always wanted. ...Show more
$21.00
NZD
Category: Middle Fiction
'Milou,' Lotta said softly. 'We need adoption papers to leave. And no one except that horrid merchant wants us.' 'Well then,' replied Milou with a grin. 'We'll just have to adopt ourselves.' In all the years that Elinora Gassbeek has been matron of the Little Tulip Orphanage, not once have the Rules for Baby Abandonment been broken. Until the autumn of 1886, when five babies are left in outrageous circumstances- one in a tin toolbox, one in a coal bucket, one in a picnic hamper, one in a wheat sack, and finally, one in a coffin-shaped basket. Those babies were Lotta, Egg, Fenna, Sem and Milou; who were swiftly and firmly deemed 'the unadoptables'. Twelve years on the children still have each other - until the fateful night a most sinister gentleman appears and threatens to tear them apart. The gang decide to make a daring escape, fleeing the frozen canals of Amsterdam for an adventure packed with puppets and pirate ships, clock-makers and cruel villains - and with only a scrap of a clue to guide them to their mysterious new home . . . ...Show more
$18.00
NZD
Category: Middle Fiction | Series: Goth Girl
There are musical goings-on at Ghastly-Gorm Hall and another spooky mystery for Ada Goth to solve in Goth Girl and the Sinister Symphony, the fourth book in this bestselling series.Lord Goth is throwing a music festival at Ghastly-Gorm Hall, with performances from the finest composers in the land. Ada c an't wait, but it's quite distracting when her grandmother is trying to find her father a fashionable new wife, there's a faun living in her wardrobe, and Maltravers is up to his old tricks! Ada must make sure everything goes to plan, and luckily help is at hand from a very interesting house guest.Previous books in the series include: Goth Girl and the Ghost of a Mouse, Goth Girl and the Fete Worse Than Death, and Goth Girl and the Wuthering Fright. ...Show more
$18.00
NZD
Category: Middle Fiction | Series: Goth Girl
People are flocking to Ghastly-Gorm Hall from far and wide to compete in Lord Goth's literary dog show. The esteemed judges are in place and the contestants are all ready to win. Sir Walter Splott is preparing his Lanarkshire Lurcher, Plain Austen is preening her Hampshire Blue Bloodhound and Homily Dic kinson and her Yankee Doodle Poodle are raring to go. But there's something strange going on at Ghastly-Gorm - mysterious footprints, howls in the night and some suspiciously chewed shoes. Can Ada, the Attic Club and their new friends the Vicarage sisters (Charlotte, Emily and Anne) work out what's going on before the next full moon? Goth Girl and the Wuthering Fright is the third beautifully illustrated book in the Goth Girl series by Chris Riddell, sequel to Goth Girl and the Ghost of a Mouse and Goth Girl and the Fete Worse Than Death. ...Show more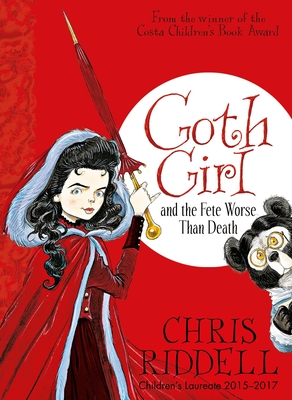 $18.00
NZD
Category: Middle Fiction | Series: Goth Girl
Preparations for the Ghastly-Gorm Garden Party and bake-off are underway. Celebrity cooks--such as Nigellina Sugarspoon, Gordon Ramsgate and Heston Harboil--are arriving at the hall for the big event and, true to form, Maltravers, the indoor gamekeep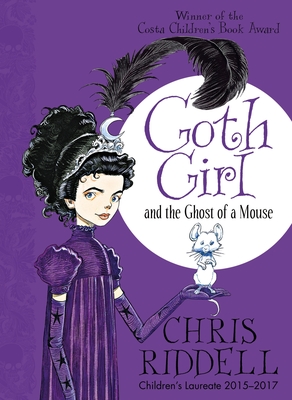 $18.00
NZD
Category: Middle Fiction | Series: Goth Girl | Reading Level: Children's - Grade 3-4, Age 8-9
Chris Riddell's Goth Girl and the Ghost of a Mouse is the beautifully illustrated winner of the Costa Children's Book Award. Ada Goth is the only child of Lord Goth. The two live together in the enormous Ghastly-Gorm Hall. Lord Goth believes that children should be heard and not seen, so Ada has to we ar large clumpy boots so that he can always hear her coming. This makes it hard for her to make friends and, if she's honest, she's rather lonely. Then one day William and Emily Cabbage come to stay at the house and, together with a ghostly mouse called Ishmael, the three children begin to unravel a dastardly plot that Maltravers, the mysterious indoor gamekeeper, is hatching. Ada and her friends must work together to foil Maltravers before it's too late! ...Show more
$19.00
NZD
Category: Middle Fiction
Across the Risen Sea is an action-packed, compelling and heartfelt middle-fiction adventure, set in a post-climate change landscape, from the multi-award winning author of How to Bee. 'It's one of them days when everything is off. A hot sweaty night in Rusty Bus means we kids is all grouchy-tired. Me a nd my best friend, Jaguar, is trying to cool down by taking turns at dipping in the sea pool. Him standing on the sea wall made from car frames and rocks on lookout for crocs, me swimming, then we'll swap places. We's always doing things as a team, him and me. We's gonna be the best fisher people and the best salvagers on the whole of the inland sea one day.' Neoma and Jag and their small community are 'living gentle lives' on high ground surrounded by the risen sea that has caused widespread devastation. When strangers from the Valley of the Sun arrive unannounced, the friends find themselves drawn into a web of secrecy and lies that endangers the way of life of their entire community. Soon daring, loyal Neoma must set off on a solo mission across the risen sea, determined to rescue her best friend and find the truth that will save her village.Across the Risen Sea is another thrilling adventure for young readers from the bestselling author of How to Bee and The Dog Runner. ...Show more
$17.00
NZD
Category: Middle Fiction
Soon to be a major motion picture! Winner of the Newbery Medal and a #1 New York Times bestseller This stirring and unforgettable novel from renowned author Katherine Applegate celebrates the transformative power of unexpected friendships. Inspired by the true story of a captive gorilla known as Ivan, t his illustrated novel is told from the point of view of Ivan himself. Having spent 27 years behind the glass walls of his enclosure in a shopping mall, Ivan has grown accustomed to humans watching him. He hardly ever thinks about his life in the jungle. Instead, Ivan occupies himself with television, his friends Stella and Bob, and painting. But when he meets Ruby, a baby elephant taken from the wild, he is forced to see their home, and his art, through new eyes. The One and Only Ivan was hailed as a best book of the year by Kirkus, School Library Journal, and Amazon, demonstrating it is a true classic in the making. In the tradition of timeless stories like Charlotte's Web and Stuart Little, Katherine Applegate blends humor and poignancy to create Ivan's unforgettable first-person narration in a story of friendship, art, and hope. An author's note depicts the differences between the fictional story and true events. Plus don't miss The One and Only Bob, Katherine Applegate's return to the world of Ivan, Bob, and Ruby, coming in 2020!   ...Show more
$16.00
NZD
Category: Middle Fiction | Series: Beast Quest Ser.
Free the Beasts. Live the Adventure. Battle Beasts and fight Evil with Tom and Elenna in the bestselling adventure series for boys and girls aged 7 and up In the prison kingdom of Vakunda, a wicked wizard has kidnapped Queen Aroha's nephew. Tom and Elenna have already defeated a monstrous orang-utan; n ow they must journey to the snowy mountains to face an even more terrifying wild dog-Beast...There are FOUR thrilling adventures to collect in The Prison Kingdom series - don't miss out Akorta the All-Seeing Ape; Lycaxa, Hunter of the Peaks; Glaki, Spear of the Depths and Diprox the Buzzing Terror.If you like Beast Quest, check out Adam Blade's other series: Team Hero, Sea Quest and Beast Quest: New Blood ...Show more
$20.00
NZD
Category: Middle Fiction | Series: The Official Pokemon Ear
On 6 August, 1945, 13-year-old Junko Morimoto's life changed forever. That was the day that an atomic bomb was dropped on Hiroshima, the Japanese city where she lived.First published in Australia, widely praised, and subsequently translated into fourteen languages, the picture book MY HIROSHIMA is Junko 's powerful and deeply moving story of a period in history that should never be forgotten. ...Show more