$26.00
NZD
Category: Classic Fiction
A Horatio Hornblower Tale of the Sea 1815, the Napoleonic Wars are over. Yet peace continues to elude Horatio Hornblower overseas . . . As an admiral struggling to impose order in the chaotic aftermath of the French wars, Horatio Hornblower, Commander-in-chief of His Majesty's ships and vessels in the W est Indies, must still face savage pirates, reckless revolutionaries and a violent hurricane. And while his retirement at half-pay might well be in sight, Hornblower will need every ounce of his rapier wit and quick thinking - not to mention his courage and leadership - to ensure that the lasting peace in Europe reaches the turbulent seas of the West Indies. This is the tenth of eleven books chronicling the adventures of C. S. Forester's inimitable nautical hero, Horatio Hornblower. 'The true master of the genre' Boris Johnson ...Show more
$27.00
NZD
Category: Classic Fiction | Reading Level: very good
"Just before dawn one winter s morning, a hijacked aeroplane blows apart high above the English Channel and two figures tumble, clutched in an embrace, towards the sea- Gibreel Farishta, India s legendary movie star, and Saladin Chamcha, the man of a thousand voices. Washed up, alive, on an English beac h, their survival is a miracle. But there is a price to pay. Gibreel and Saladin have been chosen as opponents in the eternal wrestling match between Good and Evil. But chosen by whom? And which is which? And what will be the outcome of their final confrontation?" ...Show more
$26.00
NZD
Category: Classic Fiction | Series: Penguin Modern Classics Ser.
'One of the great British novels of the twentieth century: a narrative of extraordinary reach, power and beauty' SARAH WATERS In memory of the wife who had once dishonoured and always despised him, Brian de Retteville founded Oby - a twelfth-century convent in a hidden corner of Norfolk. Two centuries later the Benedictine community is well established there and, as befits a convent whose origin had such chequered motives, the inhabitants are prey to the ambitions, squabbles, jealousies and pleasures of less spiritual environments. An outbreak of the Black Death, the collapse of the convent spire, the Bishop's visitation and a nun's disappearance are interwoven with the everyday life of the nuns, novices, successive Prioresses and the nun's priest, in this affectionate and ironic observation of the more wordly history of a religious order. ...Show more
$40.00
NZD
Category: Classic Fiction | Series: Penguin Clothbound Classics Ser.
"Mrs. Dalloway was the first novel to split the atom. ... It is one of the most moving, revolutionary artworks of the twentieth century." (Michael Cunningham, author of The Hours.) "Virginia Woolf was one of the great innovators of that decade of literary Modernism, the 1920s. Novels such as Mrs Dallowa y and To the Lighthouse showed how experimental writing could reshape our sense of ordinary life. Taking unremarkable materials - preparations for a genteel party, a day on a bourgeois family holiday - they trace the flow of associations and ideas that we call 'consciousness'." - The Guardian"Mrs Dalloway, ... a book for a lifetime" -- Christine Dwyer Hickey.Mrs Dalloway describes a day in 1923 in the life of an upper-class Londoner, Clarissa Dalloway, as she prepares for a party she is hosting. In lyrical language, Virginia Woolf describes Clarissa, her memories, day-dreams, regrets and fears, to masterfully entwine the past, present and future in what is regarded as one of the great novels of the twentieth century. "The novel's opening pages are probably the most ecstatic representation of running errands in the Western canon." (Evan Kindley). The novel is essentially plotless; using the springboard of the mundane preparations for a society party, it travels backwards and forwards through time, drawing the reader into the consciousness of the characters.Mrs Dalloway, perhaps Virginia Woolf's most popular work, and perhaps semiautobiographical, is a book worth reading and rereading.Virginia Woolf was of course a great novelist, but she has influenced literature in many ways. She and her husband Leonard Woolf set up and ran the Hogarth Press which published works by key modernist writers as well as important works in translation. In their first five years they published Katherine Mansfield, T. S. Eliot, E. M. Forster, Clive Bell, Roger Fry and Sigmund Freud, but also rejected James Joyce's Ulysses. She reviewed extensively and wrote on the art of writing and on the form of the novel. Through her stylistic innovations like the stream of consciousness, Virginia Woolf, like James Joyce, changed the course of literature. ...Show more
$40.00
NZD
Category: Classic Fiction | Series: Penguin Clothbound Classics Ser.
On a seemingly normal day at the exclusive Reform Club, Phileas Fogg, a gentleman of great wealth and exacting tastes, makes an extraordinary £20,000 wager; he will perform an impossible feat and circumnavigate the globe in just eighty days. Accompanied only by his new French valet, the steady Passepart out, he sets off on a thrilling journey. Adventure, chaos and romance ensue as the daring pair harness the new power of steam to escape their ever-increasing enemies and beat the clock. The exciting adventures of Fogg and Passepartout in Jules Verne's Around the World in Eighty Days will entertain modern readers as much as they did the Victorians, and are accompanied here by an afterword from John Grant. Designed to appeal to the booklover, the Macmillan Collector's Library is a series of beautiful gift editions of much loved classic titles. Macmillan Collector's Library are books to love and treasure. ...Show more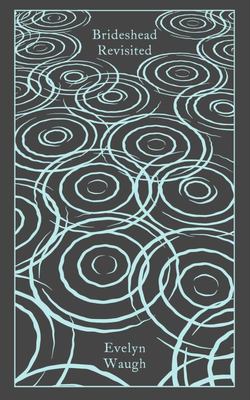 $40.00
NZD
Category: Classic Fiction | Series: Penguin Modern Classics
A beautiful clothbound edition of Evelyn Waugh's classic novel of duty and desire set against the backdrop of the faded glory of the English aristocracy in the run-up to the Second World War. The most nostalgic and reflective of Evelyn Waugh's novels, Brideshead Revisited looks back to the golden age be fore the Second World War. It tells the story of Charles Ryder's infatuation with the Marchmains and the rapidly disappearing world of privilege they inhabit. Enchanted first by Sebastian Flyte at Oxford, then by his doomed Catholic family, in particular his remote sister, Julia, Charles comes finally to recognise his spiritual and social distance from them. 'Lush and evocative ...Expresses at once the profundity of change and the indomitable endurance of the human spirit' The Times ...Show more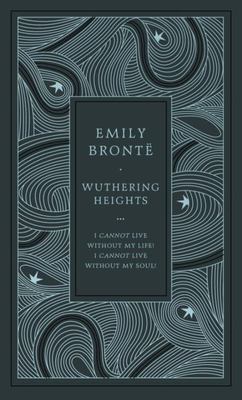 $45.00
NZD
Category: Classic Fiction
Chiltern Publishing creates the most beautiful editions of the World's finest literature. Your favourite classic titles in a way you have never seen them before; the tactile layers, fine details and beautiful colours of these remarkable covers make these titles feel extra special and will look striki ng on any shelf. This book has matching lined and blank journals (sold separately) . They make a great gift when paired together but are also just as beautiful on their own. Wuthering Heights By Emily Bronte is a novel narrated through the diary of Mr. Lockwood as he writes down both his own experiences and the recollections of others. Desiring solitude, Lockwood has recently begun renting Thrushcross Grange, a remote house in the Yorkshire Moors of Northern England. One day, he decides to visit Wuthering Heights, the nearby home of his new landlord, Heathcliff. At Wuthering Heights, Lockwood encounters several strange and unpleasant characters: Cathy, Heathcliff's beautiful but rude daughter-in-law; Hareton Earnshaw, an uncivilized yet prideful young man; Joseph, a surly old servant; and Heathcliff, the misanthropic owner of both Wuthering Heights and Thrushcross Grange. Mystified by the obvious animosity between the occupants of Wuthering Heights, Lockwood returns for a second visit but is forced to spend the night when a snowstorm hits. In the middle of the night, Lockwood is awakened by a ghostly child who calls herself Catherine Linton and begs to be let in through the window. Utterly terrified, Lockwood wakes Heathcliff, who then proceeds to throw open the window and call out to the ghost, begging it to return. Desperate to leave this haunted house and its eerie residents, Lockwood sets off for Thrushcross Grange as soon as possible.. ...Show more
$42.00
NZD
Category: Classic Fiction | Series: Clothbound Classics
Tolstoy's epic novel of love, destiny and self-destruction, in a gorgeous new clothbound edition from Penguin Classics. Anna Karenina seems to have everything - beauty, wealth, popularity and an adored son. But she feels that her life is empty until the moment she encounters the impetuous officer Count Vronsky. Their subsequent affair scandalizes society and family alike and soon brings jealously and bitterness in its wake. Contrasting with this tale of love and self-destruction is the vividly observed story of Levin, a man striving to find contentment and a meaning to his life - and also a self-portrait of Tolstoy himself. This acclaimed modern translation by Richard Pevear and Larissa Volokhonsky won the PEN/ Book of the Month Club Translation Prize in 2001. Their translation is accompanied in this edition by an introduction by Richard Pevear and a preface by John Bayley. "The new and brilliantly witty translation by Richard Pevear and Larissa Volokhonsky is a must". (Lisa Appignanesi, Independent, Books of the Year). "Pevear and Volokhonsky are at once scrupulous translators and vivid stylists of English, and their superb rendering allows us, as perhaps never before, to grasp the palpability of Tolstoy's "characters, acts, situations"". (James Wood, New Yorker). ...Show more
$40.00
NZD
Category: Classic Fiction | Series: Penguin Clothbound Classics
Beautiful, clever, rich - and single - Emma Woodhouse is perfectly content with her life and sees no need for either love or marriage. Nothing, however, delights her more than interfering in the romantic lives of others.
$18.00
NZD
Category: Classic Fiction | Series: Penguin English Library | Reading Level: near fine
'Whether I shall turn out to be the hero of my own life, or whether that station will be held by anybody else, these pages must show'.   Dickens' epic, exuberant novel is one of the greatest coming-of-age stories in literature. It chronicles David Copperfield's extraordinary journey through life, as he encounters villains, saviours, eccentrics and grotesques, including the wicked Mr Murdstone, stout-hearted Peggotty, formidable Betsey Trotwood, impecunious Micawber and odious Uriah Heep. Dickens' great Bildungsroman (based, in part, on his own boyhood, and which he described as a 'favourite child') is a work filled with life, both comic and tragic.   The Penguin English Library - 100 editions of the best fiction in English, from the eighteenth century and the very first novels to the beginning of the First World War. ...Show more
$15.00
NZD
Category: Classic Fiction | Series: Penguin English Library
'A parish child - the orphan of a workhouse - the humble, half-starved drudge - to be cuffed and buffeted through the world, despised by all, and pitied by none'. Dark, mysterious and mordantly funny, "Oliver Twist" features some of the most memorably drawn villains in all of fiction - the treacherous g angmaster Fagin, the menacing thug Bill Sikes, the Artful Dodger and their den of thieves in the grimy London backstreets. Dicken's novel is both an angry indictment of poverty, and an adventure filled with an air of threat and pervasive evil. The Penguin English Library - 100 editions of the best fiction in English, from the eighteenth century and the very first novels to the beginning of the First World War. ...Show more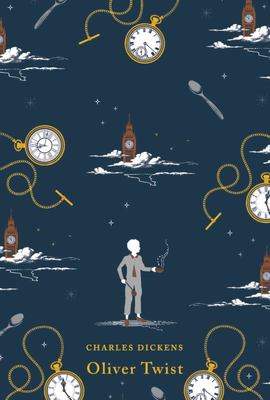 $26.00
NZD
Category: Classic Fiction | Series: Puffin Classics Ser.
Charles Dickens' classic story of a young boy who seeks his fortune on the streets of London.After Oliver Twist asks nasty Mr Bumble for more food, he has to flee the workhouse for the streets of London. Here he meets the Artful Dodger, who leads him to Fagin and his gang of pickpockets. When a thieving mission goes wrong, Oliver narrowly avoids prison and finds himself in the care of kind Mr Brownlow. But Fagin and the brutal Bill Sikes go in search of the young orphan, determined to drag him back . . .With an inspirational and light-hearted introduction by Garth Nix. ...Show more