$55.00
NZD
Category: Baking, Bread, Desserts
100 classic British bakes and their history - with recipes and photography by the inimitable Regula Ysewijn, award-winning author, Anglophile, photographer and food stylist.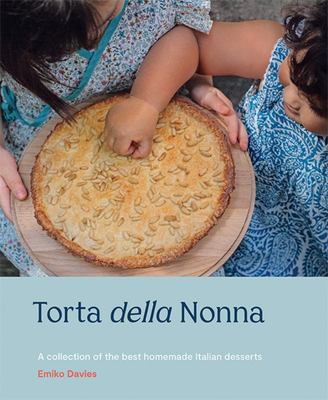 $40.00
NZD
Category: Baking, Bread, Desserts
Torta della Nonna brings together the best Italian sweets recipes from Emiko Davies' books, Florentine, Acquacotta, and Tortellini at Midnight, plus five brand new recipes. Across eight chapters, this stunning collection features classic well-known recipes, as well as family recipes passed from generat ion to generation. Recipes include sweet Italian breakfasts (including Lemon and ricotta cake, Italian brioche croissants, and Little custard and quince jam pies); classic treats from nonna's oven (Hazelnut cake, Chocolate and amaretti flan, Stuffed peaches); snacks (Rosemary and sultana buns, Sweet breadsticks, Strawberries and wine); biscuits (Red crown biscuits, Almond biscotti, Polenta biscuits); recipes for celebrations (Florentine cake; Honey and nut pastries; Chocolate-filled sponge roll); treats to eat with a spoon (Baked rice pudding; Coffee-laced ricotta; Zuppa Inglese); frozen treats (Milk gelato; Plum sorbet; Gianduia semifreddo); and five essentials any Italian cook needs up their sleeve. Full of beautiful photographs, all shot in Italy, and Emiko's evocative words,Torta della Nonna will bring the sweet tastes and romance of Italy into your home.   ...Show more
$55.00
NZD
Category: Baking, Bread, Desserts
Anita Sumer is a passionate, self-taught, 100% sourdough baker and teacher, based in Slovenia who has become an international sensation - she now has over 70,000 followers on Instagram @sourdough_mania. She started baking sourdough when her husband was ill and could not eat yeasted bread. So successful has she been that she is now teaching sourdough baking around the world; 9 countries and across 3 continents. In 2017, she published her unique sourdough book in her native Slovenia, a first of its kind and the book received two Gourmand World Cookbook Awards. The book has now been published in German, Dutch, French and Croatian. The book features both simple-to-make recipes and more ambitious recipes for more festive occasions. Readers can feast their eyes (and later their stomachs) on rye bread, simple white bread, corn bread, buckwheat bread, fruit bread, donuts, brioches and much more. Sourdough Mania contains chapters on types of grain, making a sourdough leven, the baking process, ingredients and useful tools. Every stage is fully illustrated with step-by-step photography on weighing, mixing, kneading, shaping, scoring, and baking, to take you on a journey to the healthy world of sourdough baking made easy. Anita has started a real bread revolution which more and more people are joining in to bake healthier and more delicious bread. Sourdough Mania is here. ...Show more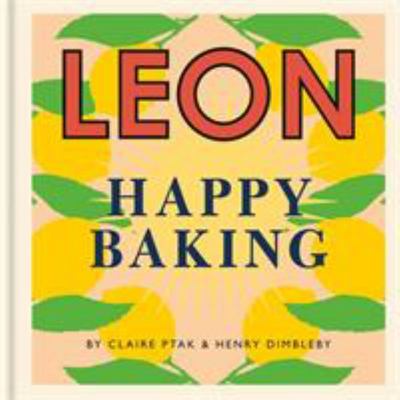 $35.00
NZD
Category: Baking, Bread, Desserts | Series: Happy Leons Ser.
With more than 100 sweet and savoury bakes, LEON Happy Baking contains recipes for everyone, from the novice cook to the expert baker. Following the LEON principle that what tastes good can also do you good, many of the recipes are sugar-, dairy-, wheat- or gluten- free - so there's plenty to indulge in even if you have a food allergy, an intolerance or an eye on your waistline. New recipes from the LEON menu are combined with favourites from the classic cookbook, LEON Baking & Puddings, now with fresh photography. ...Show more
$35.00
NZD
Category: Baking, Bread, Desserts
'Bread Therapy is a book that deserves to be read from cover to cover, but it ultimately belongs in the kitchen: whether you're a complete beginner or a seasoned expert, you'll find the recipes immaculately explained, with infinite attention to detail, and inspiring ideas for the creative bread maker. A n exciting new voice in the world of food writing.' - Orlando Murrin, President of the Guild of Food Writers 'A heartfelt, enlightening book for the baker in your family, your friends, and especially the baker within you.' - Dan Lepard, award-winning baker, food writer and photographer When life gets challenging, simple pleasures and timeless traditions can help us manage. Bread Therapy is a love letter to the art of making real bread. Making our own bread provides us with an unhurried, creative activity that is joyful, calming and productive - providing a much-needed antidote to life's stresses and strains. From kneading dough, to taking a delicious-smelling freshly baked loaf out of a hot oven, bread-making can be a mindful experience and a therapeutic craft that can nurture and nourish us. As yeast transforms flour and water, so making bread can transform us and our lives. As we seek 'slow skills' to free us from the digital world we are inhabiting more and more, and mindful activity to help us manage our mental wellbeing, so bread-making is experiencing a renaissance. This book will guide you through the art of bread making, with insight into the benefits of this ancient craft which will nourish mind and body. It celebrates bread making as a way of understanding ourselves better, learning important life lessons and making positive changes to our mental and physical wellbeing. It features eight simple bread recipes to get you started on your bread-making journey. Pauline Beaumont is a passionate bread baker, mother of six and counsellor who believes fervently in the power of bread-making to aid our emotional and psychological wellbeing. 'Pauline Beaumont writes persuasively about the power of something as simple as breadmaking to help us cope with life's stresses and disappointments.' - Andrew Whitley, author of Bread Matters and DO Sourdough - Slow bread for busy lives ...Show more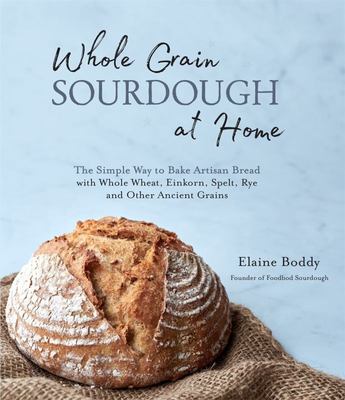 $45.00
NZD
Category: Baking, Bread, Desserts
Make Delicious, Whole Grain Bread with Minimal Kneading Baking a loaf of beautiful crusty bread can be intimidating for beginners, especially when you want to include nutrient-dense whole wheat flour and other ancient grains that are famously harder to work with. Elaine Boddy is here to help. She has s pent many years honing the science and art of baking bread with whole grains in her home kitchen. In Whole Grain Sourdough at Home, she shares all of her secrets with you. Elaine's master recipe and philosophy for bread making are all about simplicity, flexibility and having fun. Sourdough does not have to be complicated or require a lot of hands-on work to be great. With one bowl, a handful of simple ingredients, minimal kneading and less than 24 hours, you can have a loaf of delicious whole grain sourdough bread on the table. Elaine has mastered the unique nuances of nutrient-dense flours like whole wheat, einkorn, spelt and rye to create a variety of lovely breads--no dense whole wheat bricks here! Packed with a step-by-step sourdough starter guide, plenty of tips and 60 recipes for everything from sandwich loaves to focaccia, this book gives you everything you need to bake amazing whole grain bread today, tomorrow and beyond. ...Show more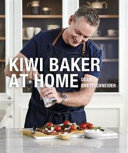 $50.00
NZD
Category: Baking, Bread, Desserts | Reading Level: very good
Internationally recognised as one of the world¿s best bakers, New Zealander Dean Brettschneider defines his baking style as a globally inspired mix of tradition and innovation. In Kiwi Baker at Home, he shares an irresistible collection of his favourite recipes for you to bake at home. In this new book you¿ll find easy, casual recipes to cater for every baking occasion ¿ from weekend breakfasts and brunches, sourdough breads and pizzas, to morning teas, lunchbox treats and decadent desserts. Dean also provides expert, step-by-step advice on bread- and pastry-making techniques, all of which make this book an accessible and essential resource for every baker. Kiwi Baker at Home encompasses Dean¿s philosophy on baking: love what you do and do what you love, with no half measures. Happy baking! ...Show more
$50.00
NZD
Category: Baking, Bread, Desserts
aran (Scottish Gaelic) From the Old Irish arán Noun bread, loaf (masculine noun, nominative case)   Aran is a beautiful cookbook from an artisan bakery in the heart of Scotland with the same name. In it, Great British Bake Off star Flora Shedden shares her simple, modern recipes and a window onto a picturesque life below the highlands, with stunning location photography and stories about the people and the place that inspire her creations. With a clean and fresh design, Aran is both whimsical and contemporary, and would be a perfect gift or self-buy for beginners, established bakers, armchair travellers or any lovers of baked goods! Sweet and savoury recipes take you from breakfast, through elevenses, through to your afternoon tea and after-dinner sweet treats, and include Poppy morning rolls, Twice baked almond croissants, Peach, chocolate and almond brioche, Poached quince porridge, Pork apple and sage sausage rolls and Banana, date and chocolate loaf cake. ...Show more
$55.00
NZD
Category: Baking, Bread, Desserts
The ultimate reference on cooking with chocolate from Ferrandi, the Parisian school of culinary arts that Le Monde dubbed the "Harvard of gastronomy."   This book--a complete chocolate course for the home chef from the world-renowned professional culinary school Ferrandi Paris--presents comprehensive techniques for working with chocolate, from tempering and decorative flourishes to recipes such as the Op ra pastry or molten chocolate cake.   From rich chocolate ganache to melt-in-your mouth truffles, this book leads aspiring bakers through every step--from basic to special-occasion skills. Starting with advice on how to equip your kitchen, plus essential techniques, fillings, and decorations, the book covers everything from quick desserts to holiday specialties and from frozen ice creams and sorbets to candies.   Ferrandi's experienced teaching team of master chefs adapted their recipes for the home cook. This fully illustrated intensive course in the art of baking with chocolate provides all of the fundamental techniques and recipes that are the building blocks of the illustrious French chocolate tradition, explained step-by-step in text and images. Practical information is presented in tables, diagrams, and sidebars for handy reference. Easy-to-follow recipes are graded for level of difficulty, allowing readers to develop their skills over time. This extensive reference provides everything an amateur home chef or experienced professional needs to master chocolate recipes for all occasions. ...Show more
$25.00
NZD
Category: Baking, Bread, Desserts
A generation of Australian children have grown up with the cakes from the Australian Women's Weekly. From the duck cake with it's beak of potato chips, to the jelly-filled pool cake and cover-worthy train cake, there are decades of treasured memories between the page of the Children's Birthday Cake Book . Celebrate it's 40th anniversary with this special hardcover edition. ...Show more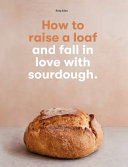 $30.00
NZD
Category: Baking, Bread, Desserts
A new generation is discovering the chewy texture and rich flavour of real bread, and sourdough is one of the biggest stories in food. You don't need to be an expert baker to make your own sourdough at home; though once you're hooked, and want to get fancy, the book will tell you what lames, bannetons, brushes and stones to invest in. The book makes the key techniques of traditional baking easy to understand, with step-by-step photo instructions and a simple overview of the magical processes that turn wild yeasts into a living baker's starter, and a bowl of flour into a glowing crusty loaf. ...Show more
$55.00
NZD
Category: Baking, Bread, Desserts
The ultimate guide to classic bakes and modern favourites that doesn't just tell you what to do - it shows you. What's the difference between beating and folding? What should "soft peaks" look like? How do you line a pastry crust? When it comes to baking, knowing what an instruction means can be the di fference between a showstopper and a soggy bottom. That's where Complete Baking comes in. Each of the 80 classic recipes in this essential collection is fully illustrated, with photographs of every stage of the baking process. See what other baking books only tell you: how to knead dough, rub together butter and flour, and create a pastry lattice to top a pie or tart. Then try your hand at more than 250 variations on those classics, or use them as inspiration to build on what you've learned and experiment with your own baking creations. If you're spoilt for choice, at-a-glance recipe choosers help you find the right recipe for any occasion, while tips on freezing help you to prepare your bakes ahead of time. With sweet and savoury recipes that everyone will enjoy, it's time to roll up your sleeves, flour your work surface, and whip up something superb with Complete Baking. ...Show more